Incidence and risk factors of steroid-induced ocular hypertension following pterygium excision with conjunctival autograft
Steroid-induced ocular hypertension
Raymond DK TOSEAFA

Department of Surgery, Cocoa Clinic, Ghana Cocoa Board, Accra, Ghana; Lions International Eye Centre, Korle-Bu Teaching Hospital, Accra, Ghana

Imoro Z BRAIMAH

Lions International Eye Centre, Korle-Bu Teaching Hospital, Accra, Ghana; Department of Surgery, University of Ghana Medical School, College of Health Sciences, University of Ghana, Accra, Ghana

Naa N TAGOE

Lions International Eye Centre, Korle-Bu Teaching Hospital, Accra, Ghana

Benjamin ABAIDOO

Lions International Eye Centre, Korle-Bu Teaching Hospital, Accra, Ghana; Department of Surgery, University of Ghana Medical School, College of Health Sciences, University of Ghana, Accra, Ghana

Yakubu S ADAM

Lions International Eye Centre, Korle-Bu Teaching Hospital, Accra, Ghana

Edith M DOGBE

Lions International Eye Centre, Korle-Bu Teaching Hospital, Accra, Ghana; Department of Surgery, University of Ghana Medical School, College of Health Sciences, University of Ghana, Accra, Ghana

Vera A ESSUMAN

Lions International Eye Centre, Korle-Bu Teaching Hospital, Accra, Ghana; Department of Surgery, University of Ghana Medical School, College of Health Sciences, University of Ghana, Accra, Ghana
Keywords:
Pterygium excision, conjunctival autograft, steroid, intraocular pressure, ocular hypertension
Abstract
Background: Topical steroids are used to reduce post-operative inflammation after ocular surgery with the potential risk of ocular hypertension, glaucoma and blindness. There is a paucity of published data globally and locally on steroid-induced ocular hypertension (SiOH) post pterygium excision (PE) with conjunctival autograft (CAG).
Objective: This study aimed to determine the incidence and risk factors of SiOH post-PE with CAG in Korle-Bu Teaching Hospital Accra.
Methods: In this prospective observational study, the demographic and clinical data of patients undergoing PE with CAG were collected and analyzed. Post-operative intraocular pressures (IOP) were measured on days 1, 7, 14, 28, and 42. The cumulative incidence of SiOH (proportion of the increase in IOP ≥ 10mm Hg at six weeks compared to baseline) and mean change in IOP from baseline were computed. Risk factors of SiOH were determined using a multiple logistic regression model. The Kaplan-Meier survival curve was used in estimating the median time to develop SiOH.
Results: Overall, 101 patients participated in this study with a mean age of 46.8 ± 11.9 years. The majority (65.3%, n= 66/101) of participants were females. The mean pre-operative IOP in the study eyes was 15.3 ± 3.0 mm Hg. The overall mean post-operative IOP was 18.6 ± 2.8 mm Hg (p = 0.001). The overall incidence of SiOH six weeks post-PE with CAG was 32.7% (95% confidence interval (CI) = 23.7 - 42.7%). Male sex was the only independent factor associated with the development of SiOH [odds ratio (OR) = 3.3; 95% CI = 1.1 - 9.7; p = 0.032]. The median time to develop SiOH was 42 days (95% CI = 37.1 - 46.9 days, p = 0.022).
Conclusion: The study showed that SiOH post-PE is a common complication with an overall six-weeks post-excision incidence of 32.7%. Males are more likely to develop SiOH after PE with CAG. Patients undergoing PE with CAG should be closely monitored postoperatively to prevent complications associated with prolonged raised IOP.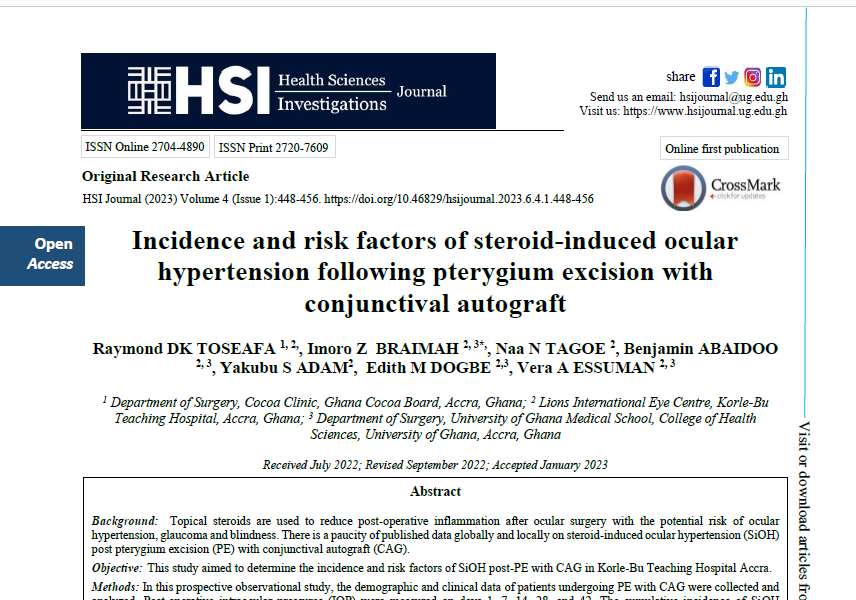 Section
Original Research Article