Human SARS CoV-2 spike protein mutations in West Africa
Human SARS CoV-2 spike protein mutations in West Africa
Samuel O OLALEKAN

1Department of Physiology, Olabisi Onabanjo University, Sagamu Campus, Sagamu, Ogun State, Nigeria

Muinat M ADEYANJU

Department of Biochemistry, Olabisi Onabanjo University, Sagamu Campus, Sagamu, Ogun State, Nigeria

Ifabunmi O OSONUGA

1Department of Physiology, Olabisi Onabanjo University, Sagamu Campus, Sagamu, Ogun State, Nigeria

Babatunde TAYO

Department of Medical Microbiology and Parasitology, Babcock University Teaching Hospital, Ilishan, Ogun State, Nigeria
Keywords:
Mutations, spike proteins, West Africa, SARS-CoV-2
Abstract
Background: The COVID-19 pandemic was caused by the severe acute respiratory syndrome coronavirus-2 (SARS-CoV-2), first detected in Wuhan, Hubei province, China in December 2019. The virus rapidly spread worldwide, with mutations in various parts of its genetic material affecting its transmissibility and infectivity.
Objective: This study addressed some of the mutations present in the human SARS-CoV-2 spike proteins relative to Wuhan-Hu-1 reference sequence from China, according to different countries from West Africa
Methods: The SARS-CoV-2 spike protein sequences were obtained from the National Center for Biotechnology Information virus database in the FASTA format on November 12, 2021. The multiple sequence alignment of the proteins was carried out by MAFFT version 7 online. The human SARS-CoV-2 spike protein sequences from selected West African countries were analyzed by comparing them with the reference SARS-CoV-2 protein sequence from Wuhan-Hu-1, China.
Results: Out of 148 spike protein sequences analyzed, 137 proteins had one or more mutations. A total of 486 mutations were observed corresponding to 47 distinct mutation sites. In the analysis of the spike proteins in the study, it was observed that the Receptor Binding Domain which is involved in the interactions with human angiotensin-converting enzyme-2 (ACE-2) receptor causing infection leading to the COVID-19 disease had 8 distinct mutation sites. The D614G mutation is the most common in the SARS-CoV-2 spike protein observed so far among all the West African countries examined in this study and thus the most predominant. In this study, we examined spike proteins not associated with mutations, the distribution of mutations in spike proteins, mutation density in different regions of the spike protein sequence, spike protein sequences with multiple mutations and the Human SARS-CoV-2 spike protein mutation in West Africa and implications for vaccination and drug development purposes.
Conclusion: The identified mutations in SARS-CoV-2 are significant for infection prevention, control, and public health interventions. Further studies are imperative to understand the mutations in the virus's spike proteins to guide vaccine development and antiviral drug designs. Investigations should also be conducted to determine the infectivity of emerging variants in West Africa and their response to vaccines and available drugs to address public health concerns on vaccination and drug design goals.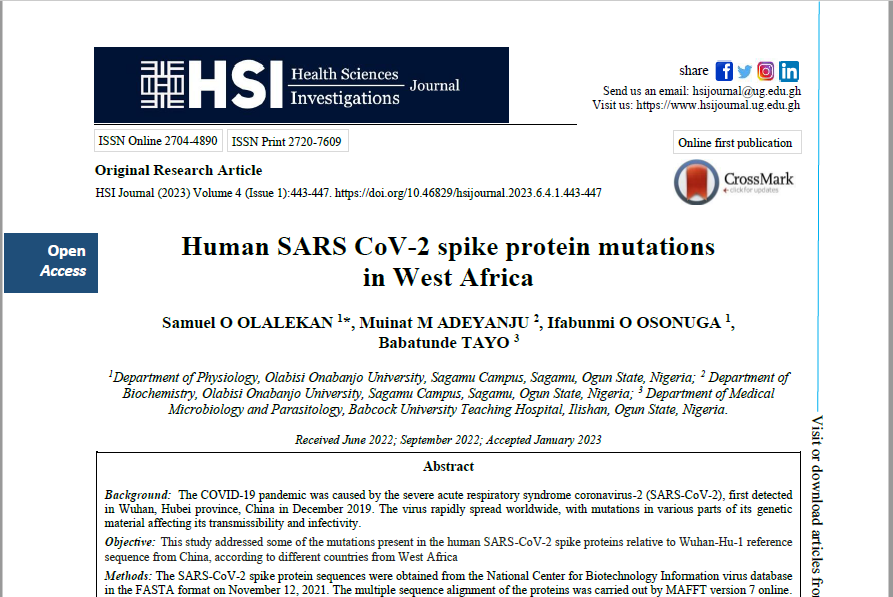 Section
Original Research Article