Prevalence of high blood pressure, overweight, and obesity in Ghanaian school children
Prevalence of high blood pressure, overweight and obesity in Ghanaian school children
Taiba J Afaa

1Department of Child Health, University of Ghana Medical School, College of Health Sciences, University of Ghana

Nana AH Seneadza

Department of Community Health, University of Ghana Medical School, College of Health Sciences, University of Ghana, Accra, Ghana

Kokou H Amegan-Aho

Department of Paediatrics and Child Health, School Medicine, University Health Allied Sciences, Ho, Ghana

Yaw A Asante

Department of Medicine and Therapeutics, School of Medicine, University of Health and Allied Sciences, Ho, Ghana

Onike P Rodrigues

Department of Child Health, University of Ghana Medical School, College of Health Sciences, University of Ghana, Accra, Ghana
Keywords:
children, overweight, obesity, hypertension, high blood pressure paediatrics
Abstract
Background:  Obesity is excessive fat accumulation in adipose tissue to the extent that health is impaired. As the body weight increases, the frequency of blood pressure shifts to higher levels. This combination is associated with a greater risk of disability, reduced quality of life and premature death in early adulthood.
Objective: This study aimed to determine the prevalence of overweight, obesity and associated hypertension in school children.
Methods: School children aged 5 to 14 years from six schools in Greater Accra, Ghana, were randomly recruited into the study. Weight, height and blood pressure were measured. Body mass index was generated and plotted using the WHO Anthroplus software. The association between BMI percentile and blood pressure was also analysed.
Results: Six hundred school children were recruited for the study. Of these 59.7% (n = 358) were females, and 40.3% (n = 242) were males. The prevalence of overweight and obesity were 11.16% and 11.01%, respectively. Overweight (12.8% vs 8.7%) and obesity (11.7% vs. 9.9%) were relatively common among females as compared to males (p = 0.083). Overall, 8.5% (n = 51) of children out of the 600 had elevated blood pressure. Elevated blood pressure was significantly prevalent among obese children 18.2% (n = 12), followed by overweight 13.4% (n = 9) and the normal weight of 6.4% (n= 30)  for school children (p = 0.002).
Conclusion: Hypertension was found among the school children studied and was significantly associated with overweight and obesity. This calls for the promotion of school health education and physical activities to curb hypertension in this population.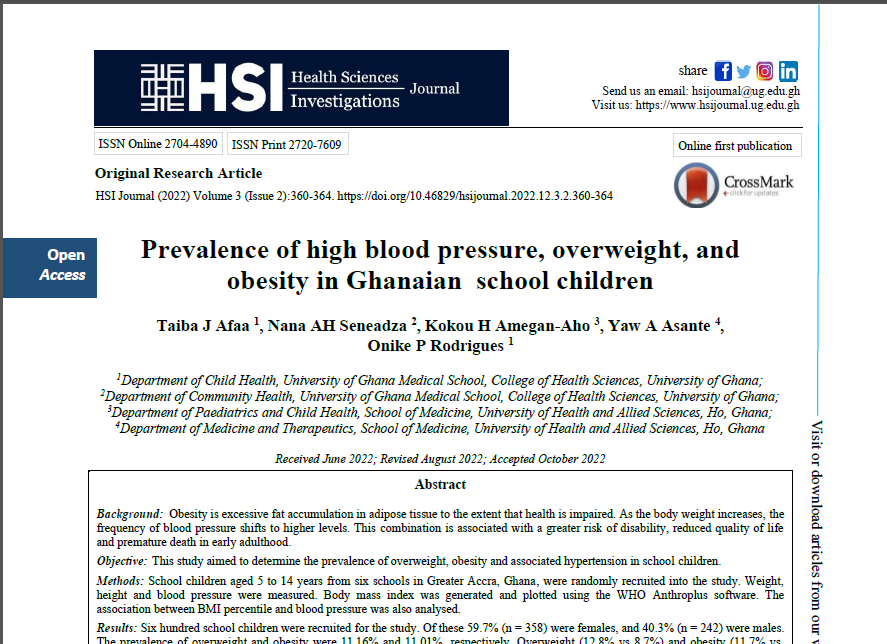 Section
Original Research Article