Clinical presentations and outcomes of ectopic pregnancy at a tertiary referral hospital in Ghana
Clinical presentations and outcomes of ectopic pregnancy
Kwaku Asah-Opoku

Department of Obstetrics and Gynaecology, University of Ghana Medical School, College of Health Sciences, University of Ghana, Accra, Ghana

Donne K Ameme

Ghana Field Epidemiology and Laboratory Training Programme, University of Ghana, School of Public Health, Accra, Ghana

Kareem Mumuni

Department of Obstetrics and Gynaecology, University of Ghana Medical School, College of Health Sciences, University of Ghana, Accra, Ghana

Alfred Yawson

Department of Community Health, University of Ghana Medical School, College of Health Sciences, University of Ghana, Accra, Ghana

Samuel Oppong

Department of Community Health, University of Ghana Medical School, College of Health Sciences, University of Ghana, Accra, Ghana

Joseph Seffah

Department of Obstetrics and Gynaecology, University of Ghana Medical School, College of Health Sciences, University of Ghana, Accra, Ghana

Kobinah Nkyekyer

Department of Obstetrics and Gynaecology, University of Ghana Medical School, College of Health Sciences, University of Ghana, Accra, Ghana
Keywords:
Ectopic, gestation, presentation, patterns
Abstract
Background: Ectopic gestation is a major cause of morbidity and mortality among women of reproductive age. The clinical presentations vary depending on whether it is ruptured or not. Understanding the various modes of presentation is therefore critical to early detection and management to reduce associated morbidity and mortality. We determined the patterns of presentation and outcomes of ectopic pregnancy in the Korle Bu Teaching Hospital (KBTH) of Ghana.
Objective: This study aimed to determine patterns of presentation of ectopic pregnancy in the KBTH of Ghana and the outcomes for patients presenting with the condition.
Methods: We collected data from pregnant women presenting to the Obstetrics and Gynaecology Department of the KBTH during the study period and diagnosed with ectopic pregnancy. A case of ectopic pregnancy was any woman diagnosed by an obstetrician/gynaecologist either by clinical features or pelvic ultrasound. Data were collected on sociodemographic characteristics, as well as clinical history, examination findings, treatment, and outcomes. Data were analyzed descriptively to determine the patterns of presentation of ectopic gestations.
Results: A total of 104 ectopic pregnancies representing 8.81% (n = 104/1,180) of gynaecological emergencies were recorded during the study period. Of the 104 ectopic pregnancies recorded, 6.7% (n = 7) were diagnosed as unruptured. The mean (± standard deviation) gestational age at diagnosis of ectopic pregnancy was 7.2 ±1.9 weeks. About 94.2% (n = 98) of patients with ectopic pregnancy had visited a health facility before the visit at which the diagnosis was eventually made, and 76.9% (n = 80) of the ectopic cases had ruptured at diagnosis. For 1.9% (n = 2) of the participants, ectopic pregnancy was detected by ultrasound. The triad of amenorrhoea in 91.3% (n = 95), lower abdominal pains in 91.3% (n = 95) and irregular vaginal bleeding in 47.1% (n = 49) of the ectopic pregnancies were the main presenting symptoms of ruptured ectopic pregnancy.
Conclusion: The incidence of ruptured ectopic pregnancy in the KBTH was high. Primary health care practitioners should rule out ectopic pregnancy in women of the reproductive age group who present with the triad of amenorrhoea, lower abdominal pain and irregular vaginal bleeding.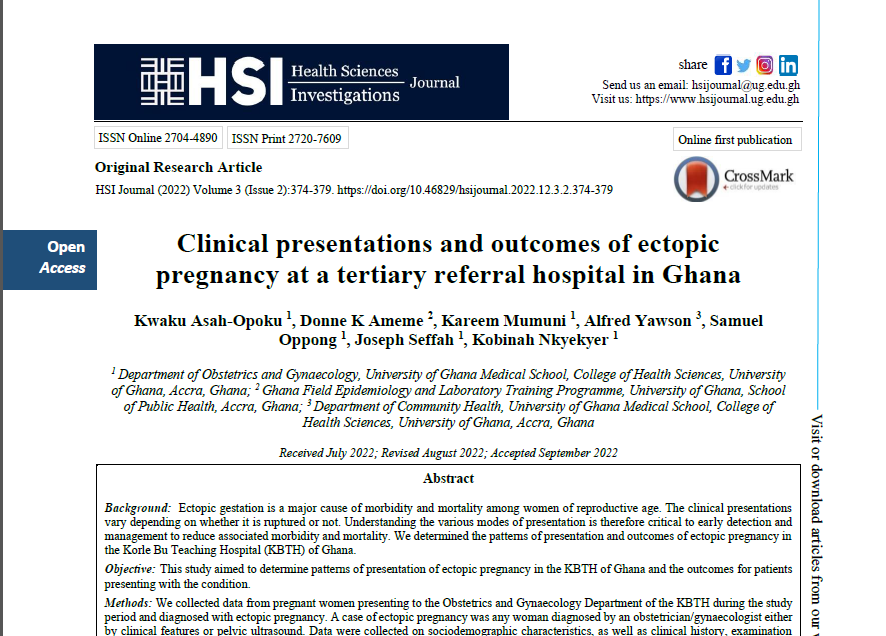 Section
Original Research Article