Current Issue
Vol 3 No 2 (2022): Health Sciences Investigations Journal 2022 ( Vol3 Issue 2)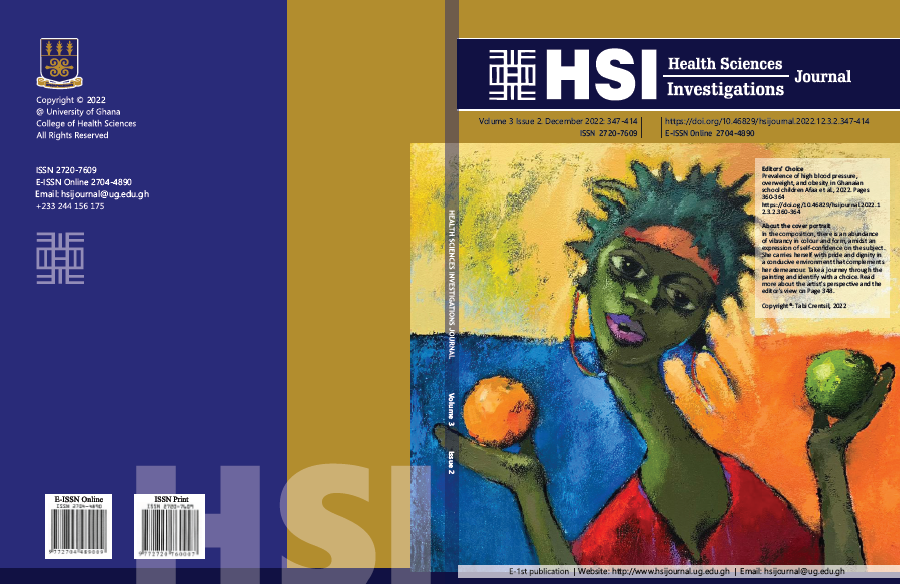 Health Sciences Investigations Journal 
Sixth Edition
Volume 3 Issue 2
Year 2022.
View All Issues
Our aim
The HSI Journal is an independent, international journal intended for the publication of original articles from the global scientific community. To reach the global community, especially those in resources-limited regions, HSI Journal provides on-line Open Access publications at no cost to authors and readers.
Our Mission
The HSI journal is a peer-reviewed journal for the communication of research results and policy issues in the health sciences and related disciplines. Our mission is to increase the visibility and impact of health sciences research in Ghana and globally
Licensing
ID: Health Sciences Investigations (HSI) Journal
Electronic ISSN: 2704-4890 (ONLINE)
Print ISSN: 2720-7609 (PRINT)
Office address:
University of Ghana College of Health Sciences, Charles Easmon Building, 2nd floor, Room 21
P.O Box k52, Korle-Bu,Accra,Ghana.
Contact email: hsijournal@ug.edu.gh
Frequency of publication:
The HSI journal provides online first publications (E-Publication FirstTM).
All accepted papers are published online soon after completion of the peer-review and editorial processes. All published articles are subsequently compiled in final printed editions that are produced in two volumes in the course of the reference year.
To Advertise
To advertise or reproduce content in HSI Journal, please send an email hsijournal@ug.edu.gh or call Godfred: +233 0244110902 or Daniel: +233 024953 4022
All content is published by the University of Ghana on behalf of the College of Health Sciences, for the Health Science Investigations Journal.
All rights reserved. The HSI Journal acknowledges support provided by the University of Ghana Office for Research and Development (ORID).